30 Minute Training Sessions Personalized to Fit You!
Mark Rogers, Austin Simply Fit Founder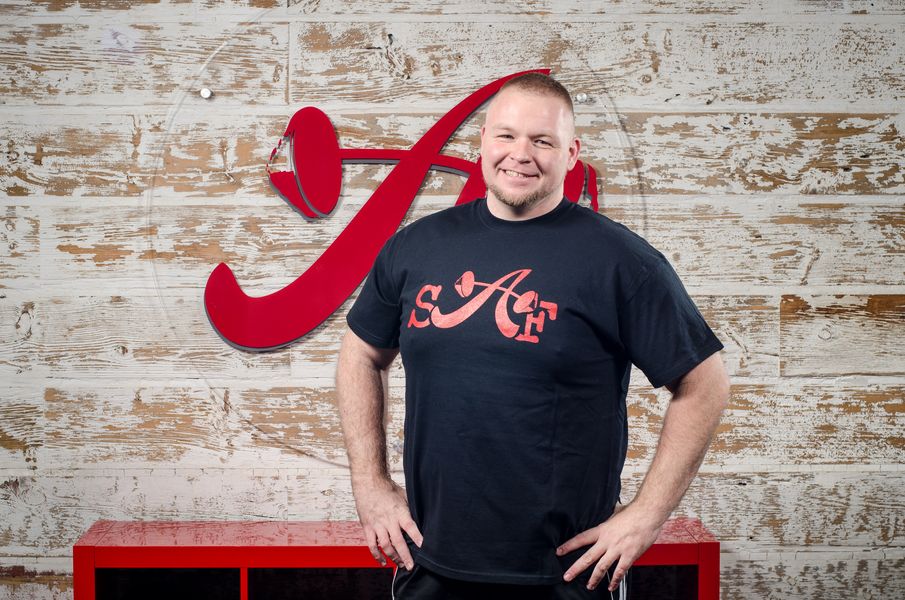 World class powerlifter, entrepreneur, and expert fitness trainer, Mark Rogers is the Founder & Head Coach of Austin Simply Fit, the premier personal training studio in Austin, Texas.
Mark opened the first of three private studios in 2010. Under his direction, the expert training staff at Austin Simply Fit has helped thousands of people achieve their fitness goals using Mark's strength-based fitness program utilizing high-intensity 30-minute workouts proven to be more effective than traditional less-intense 60-90 minute sessions. Mark's methodical approach to fitness is based on more than a decades worth of research and training at both the high school, collegiate, and professional level.
In addition to running his own business, Mark is a world-class powerlifter who has successfully competed in dozens of local, state, and world competitions since beginning his lifting career nearly seven years ago. Rogers is the current APF National Champion and holds AAPF State Records in all categories for the OPEN and Submaster Divisions in his weight class (275lbs) and USPA State Multiply Records in all categories for the Open Division. Mark also placed second in the 2013 IPL World Championships in Las Vegas.
For Mark, lifting is about competing against your own self with disregard to all outside influences. Mark lives by the motto "I will not accept mediocrity," a motto his athletes and trainers are required to embrace. Since beginning his career Mark has trained some of the best athletes in the sports of powerlifting, football, track and field and mixed martial arts including undefeated MMA fighter Lucas Orozco and international elite powerlifters Nikki Gonzalez and Judy McElroy. Plus, Mark's team of elite powerlifters hold 113 state records and 14 American records, and counting.
Mark was born in Tulsa, Oklahoma and raised in Dalton, Georgia. Growing up, Mark was obese and often made fun of for his weight. The taunting fueled Mark's athletic accomplishments. He was a multi-sport high school athlete who went on to play college football at the University of South Tennessee and Virginia State. A spinal injury set him back physically and mentally resulting in severe weight gain. At the age of 19 he decided he would no longer support the unhealthy lifestyle he was living. He took control of his diet and exercise and transformed his body from 300+ unhealthy pounds to 235 healthy pounds. Ultimately, his personal passion for fitness turned into his life's work. After college, Mark coached high school football and powerlifting for 6 years. He became a personal trainer in 2008 and started Austin Simply Fit in 2010.
Mark holds a Bachelor of Science in Kinesiology from Texas A&M University-Commerce. He is NSCA-CSCS and Westside Barbell Certified. Mark has been a guest speaker at both the University of Texas at Austin and The University of Texas at San Antonio. Mark is a father of three and lives in Austin, Texas with his wife, Adrien.
Powerlifting Accomplishments and Records
11/2009-USAPL Longhorn Open-2nd Place
3/20/10-SPF Longhorn Classic-1st Place
3/20/10-SPF Longhorn Classic, 1st Place Bench for Reps
8/7/2010-APF Texas Challenge, 2nd Place
5/28/2011-USPF Texas State, 1st Place, Best Lifter
11/5/2011-APF Texas Cup, 1st Place
12/15/2012-USPA Lifts for Gifts, 1st Place, Best Lifter
8/2/2013-APF Texas Challenge, 1st Place
11/09/13-IPL World Championships, 2nd Place
6/1/2014-APF National Championships, 1st Place
Currently the APF National Champion
Currently holds the AAPF State Records in all categories for the OPEN and Submaster Divisions.
Currently holds the USPA State Multiply Records in all categories for the Open Division.